Christmas is a time for family and friends. And what better way to share the Christmas spirit than by taking this holiday quiz together?
These Christmas quiz questions with answers will test your knowledge of all things Christmas-related. So put on your thinking cap and get ready!
For your convenience, we divided the Christmas questions into different categories. Have fun!
The Fun Quizzes team wishes you a wonderful Christmas!
Christmas Quiz Questions and Answers – History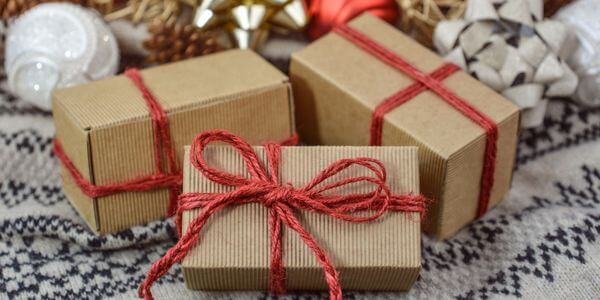 1.  When was the first Christmas card printed?
2. Which country donates the Christmas tree in Trafalgar Square?
3. The first royal Christmas broadcast – which monarch made it?
4. Who invented the Christmas cracker?
5. What birds are popular on Christmas cards?
6. Shakespeare wrote a play for Elizabeth I as a Christmas present. Which one is it?
7. Stephen I was anointed King of which country in the year 1000, on Christmas Day?
8. What did Scottish nationalist students take from Westminster Abbey on 25th December 1950?
9. When was the first ever organised Christmas Day swim?
10. Where did Joseph, Mary, and Jesus travel after leaving Bethlehem?
11. Who is the patron saint celebrated on the 26th of December?
12. What gifts did The Three Wise Men give Jesus on his birthday?
13. When does the Russian Orthodox Church celebrate Christmas?
14. In what country was eggnog invented?
15. What were the children drinking in the first commercially produced Christmas cards by Henry Cole?
16. Who wrote the first ever king's Christmas message?
17. Approximately how many people listened to the first-ever Christmas wireless message?
18. Who banned Christmas carols after the English Civil War in 1647?
19. Where does the name "Boxing Day" come from?
20. When was Christmas first celebrated in the UK?
21. What are you supposed to do when you find yourself under the mistletoe?
22. Which famous scientist was born on Christmas Day in 1642?
23. What does 'X' in 'X-Mas' stand for?
Round I Christmas Quiz Questions Answers
1843 – a man called John Calcott Horsley printed the first Christmas card for the friend that gave him the idea, Sir Henry Cole.
Norway – the city of Oslo, Norway, has donated the Trafalgar Square Christmas tree to the people of Britain each year since 1947.
It was started by The Queen's grandfather, King George V, in 1932.
Tom Smith, a 19th-century London sweet shop owner.
Robins
The Merry Wives of Windsor
Hungary
The Stone of Scone – on Christmas Day 1950, four students took the stone from Westminster Abbey in London back to Scotland. The 2008 film called Stone of Destiny illustrates the incident.
Christmas Day 1864 – the Boxing Day Dip is now a popular charity event that takes place each year.
Egypt
Saint Stephen
Gold, Myrrh, and Frankincense
January 7th – the Russian Orthodox Church uses the old 'Julian' calendar for religious celebration days. Only a few Catholics might celebrate it on the 25th of December.
England
Wine
Rudyard Kipling – he wrote the 251-word message.
Over 20 million – due to its success, George V continued to make an annual Christmas broadcast for the rest of his reign.
Oliver Cromwell
Back in the day, Boxing Day was a traditional day off for servants in which they received a 'Christmas Box' from their master. They would also go home on Boxing Day to give presents to their families.
6th century
Kiss – according to the well-known holiday tradition, it's bad luck to refuse a kiss beneath the mistletoe.
Isaac Newton
Xristos – the Greek word for Christ.
Christmas Ornaments and Gifts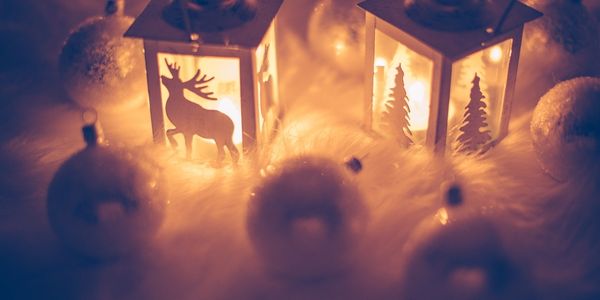 24. What ornaments do elves have on their shoes?
25. What colour are mistletoe berries?
26. How many tips do traditional snowflakes have?
27. Apart from white, red and green, what other colours are really popular on Christmas?
28. What are the two most popular phrases on Christmas gift cards?
29. What is the most popular Christmas tree ornament for the tip?
30. When should Christmas decorations come down, according to UK traditions?
31. What popular Christmas toy is actually based on a 20th-century political caricature?
32. What ancient people started the tradition of exchanging gifts?
33. What are small, cheap gifts usually called?
34. Where does the tradition of hanging gifts on the Christmas tree come from?
35. Why do we give chocolate coins for Christmas?
Round II Answers
24. Bells
25. White
26. Six
27. Gold and silver
28. To and from
29. An angel
30. By January 5th
31. The teddy bear – is named after U.S. President Theodore "Teddy" Roosevelt.
32. The Romans
33. Stocking stuffers
34. The Druids
35. To honour Saint Nicholas
Christmas Questions: Santa Claus
36. How does Santa climb up the chimney after getting your presents?
37. What were the first eight reindeers?
38. Which soft drinks company is the first to have ads featuring Santa?
39. What snacks does Santa love?
40. What is Santa called in France?
41. Which reindeer name means "thunder"?
42. Which reindeer name means "lightning"?
43. Which US states have towns actually named Santa Claus?
44. Who created Rudolph the Red-Nosed Reindeer, Santa's ninth reindeer?
45. Which Saturday Evening Post artist made really funny Santa Claus pictures?
46. What is Santa called in Germany?
Round III Answers
36. Touches his nose, smiles and nods.
37. Blitzen, Comet, Cupid, Dasher, Prancer, Vixen, Dancer, and Donner
38. Coca-Cola – it started in the 1920s
39. Milk and cookies
40. Pere Noel
41. Donner
42. Blitzen
43. Georgia, Arizona, and Indiana
44. Rudolph May
45. Norman Rockwell
46. Broadly speaking, in the Protestant north is der Weihnachtsmann (the Christmas Man), while the Catholic south is visited by das Christkind (the Christ child).
Related: 30 Christmas Quiz Questions for Kids
Christmas Books, Songs and Movies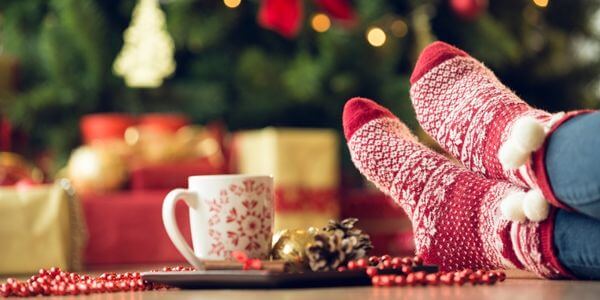 47. What is the name of Ebenezer Scrooge's partner in A Christmas Carol?
Jacob Marley
48. Which actor got the starring role in Jingle All the Way?
Arnold Schwarzenegger
49. Who wants to steal the Christmas?
The Grinch
50. Who wrote A Christmas Carol?
Charles Dickens
51. In the poem 'The Night Before Christmas', what did children have visions of?
Sugar plums
52. What is 'Smoking Bishop'?
A sort of mulled wine
53. What female actress stars in Miracle on 34th Street?
Natalie Wood
54. What year was 'Do They Know It's Christmas?' written?
1984
55. Which Hans Christian Andersen fairy tale inspired the movie Frozen?
The Snow Queen
56. Who resurrected Frosty in 'Frosty the Snowman?'
Santa Claus
57. Why was the Grinch so mean?
His heart was two sizes too small
58. What is the biggest-selling Christmas song?
White Christmas
59. Who said, "God bless us, every one!"?
Tiny Tim
60. What sort of spirit is Clarence in It's a Wonderful Life?
An angel
61. Where are the stockings hung in The Night before Christmas?
By the chimney
62. Who recorded Blue Christmas?
Elvis Presley
63. What reindeer is never mentioned in The Night before Christmas?
Rudolph
64. What 1990 movie tells the story of a boy whose house is robbed at Christmas?
Home alone
Related: 50 Christmas Films Quiz Questions
Christmas Carols
65. What carol is also known as "the counting song"?
The Twelve Days of Christmas
66. What carol can you use to demand figgy pudding
We wish you a Merry Christmas
67. What carol warns you about Santa?
Santa Claus is coming to town
68. Which carol was originally named One horse open sleigh?
Jingle bells
69. What carol has the words fa-la-la-la-la-la-la-la-la?
Deck the halls
70. Which carol brings you tidings of comfort and joy?
God rest ye merry gentlemen
71. What carol is best sung when "the weather outside is frightful"?
Let it snow
72. What is wassailing?
The tradition of wishing neighbours a long life.
73. Which saint introduced carols in churches?
St Francis of Assisi
74. Which American holiday was the carol Jingle bells originally intended for?
Thanksgiving
75. What was the first carol broadcasted from space?
Jingle bells
76. What words follow "Silent Night" in the song?
Holy Night
Related: 40 Christmas Music Quiz Questions
Christmas Food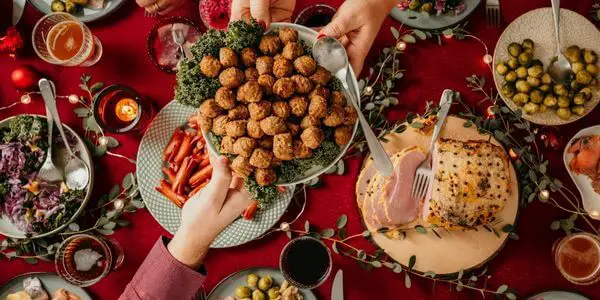 77. What type of pie filling is really appreciated at Christmas?
Pumpkin
78. What holiday drink is made with milk, egg and sugar?
Eggnog
79. What were mince pies made with in Victorian times?
Beef and spices
80. What fruit is usually placed in stockings?
Tangerines
81. What is the traditional Christmas meal in England?
Turkey with cranberry sauce and potatoes
82. What was the traditional Christmas meal in England in Victorian times?
Pig's head and mustard
83. What was Christmas pudding originally made of?
Soup with raisins and wine
84. What Christmas cake looks like an actual log?
The Yule log
85. Which sauce is traditionally served with Christmas pudding?
Brandy Sauce
Related: 40 Christmas Food Quiz Questions
Some Funny Ones
86. How does Santa keep track of all the fireplaces he's visited?
He keeps a log book
87. What did the Kremlin send MI6 in their Christmas hamper?
A mince spy
88. Why is Mrs Claus always checking Santa's phone?
He seems to know where all the naughty girls live
89. Why did Santa's elf go in for counselling?
He suffered from low self-esteem
90. Why does Santa have three gardens?
So he can 'ho ho ho'!
91. What goes "Oh, Oh, Oh"?
Santa walking backwards
92. Why was the snowman looking through the carrots?
He was picking his nose
93. What did Adam say the day before Christmas?
"It's Christmas Eve"
94. What's a dog's favourite carol?
Bark, the herald angels sing
95. Why are Christmas trees very bad at knitting?
Because they always drop their needles
96. What is the best Christmas present?
A broken drum, you can't beat it!
97. How does Santa get ready for Christmas Eve?
He puts his clothes on… duh!
98. What does Santa Claus like to eat on Christmas Eve?
Fish and chips!
99. How does Santa get down the chimney without falling through?
Magic!
100. Which Santa's reindeer has the same name as the god of love?
Cupid
Merry Christmas and Happy Holidays! We hope you enjoyed these Christmas quiz questions with answers. From all of us at Fun Quizzes, we wish you the best during this joyous season.